Zoe Mawson, Head Teacher, at Beckfoot Heaton Primary School and Nursery has organised many Primary Futures events for her school using Inspiring the Future, including a university visit for the children focusing on science as part of our Women in Science campaign. In this short blog post, she shares a little bit about the events her school has ran and why.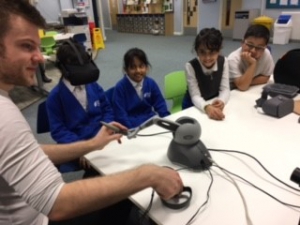 "Our school has held a number of Primary Futures events including the Inspiring Bradford launch event at the start of our aspiration week, three What's my line? activities, classroom talks, celebrity visits and skype interviews.
Children in years 4 and 5 took part in some amazing workshops by Professor Mon Williams and his team of engineering scientists from Leeds University. They learnt how virtual reality can help the medical world as well as thinking about the many skills that could be used in a job connected with virtual reality.  Meeting the male and female scientists challenged lots of assumptions that science is a man's world.
Our school has a simple message for children in that we teach them that if they are 'Great Learners and Great People, then they have the best chance of having a Great Life'. We want ALL of our children to have a great life, regardless of any challenges they may face. These events help in two ways: they open children's eyes to the possibilities available for their future and they help children believe that it really could be a possibility for them.
How inspired have our children been by the events we have arranged? See for yourself. Click here to to see what a difference the Leeds University visit made to our pupils.
We are always keen to inspire children about their futures and have already planned our 2018 Aspiration Week. The Inspiring the Future platform helps us to reach people quickly as well as keep good communication going throughout the process. I was surprised about how many people lived close enough to easily contribute."
Thank you Zoe for sharing your school's wonderful events with us.
If you would like to organise a similar event for your school sign up at the top of the page to start inviting volunteers, or contact us at enquiries@inspiringthefuture.org
Find out more about our Women in Science campaign here.