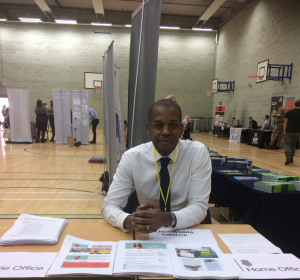 Chukwuma is an Administrative Officer at the Home Office and an Inspiring the Future volunteer. He has recently attended his first event with Inspiring the Future and is passionate about continuing to inspire young people and children, and raise their awareness of their future possibilities in the civil service. Find out a bit more about Chukwuma, his job and why he volunteers with us in this short post.
Why do you volunteer with Inspiring the Future?
"I feel it is important as the Civil Service is evolving. There are so many avenues to enter the Civil Service, from Apprenticeships to the Civil Service Fast Stream. There are also many volunteering and shadowing opportunities which will help to broaden your horizon. The Civil Service also provides flexible working so you can work according to your needs."
Why is it important to volunteer with us and talk to state school children about your career?
"It took me a long time to believe in myself, to believe in my abilities. Eventually I decided that there may be children like me who just need that encouragement and support with their skills and talents. You can be a leader right now, where are are and bloom wherever you are planted. I hope to instil belief in the children, to become the success I know they can be. I imagine a day when the next generation elevate the generation coming behind them."
Tell us a bit about your experience with Inspiring the Future
"My first event took place recently at Epping St John's School. They started their new Sixth form and their Year 12 and 13 students were looking for guidance with regards to Universities, advanced apprenticeships and the world of work. Their coordinator Vivien Madden was so helpful and ensured I had everything I needed for the day. I had some really engaging conversations, especially with one of their students who could speak three languages. I thoroughly enjoyed the experience."
What's great about your job and working for the civil service?
"I love dealing with the public and helping to solve problems. At the moment we have apprentices in your team so I really enjoying helping them and sharing my knowledge to empower them. My current aim is to inspire my colleagues to join Inspiring the Future. I am in the process of getting one of my colleagues to assist me at my next event. I need them to see the same talent in themselves that I see in them."
What advice do you offer young people regarding careers?
"Believe in yourself, believe in your talents and abilities. Do not let anything go wasted. If your talent is showing kindness and helping others, do it joyfully. Do not be scared of challenges. Do not be afraid to fail as they are only stepping stones to success."
Thanks for taking the time to share your story with us, Chukwuma.
Sign up at the top of the page today to join volunteers like Chukwuma and your passion with young people. You'd be amazed at how inspiring your story could be.