Colette is one of our inspiring NHS Ambassadors who signed up to Inspiring the Future as part of our campaign with NHS England, NHS Improvement and Health Education England to get more NHS Staff into schools, and talking to young people and children about the interesting roles available with the NHS. She recently visited the Graveney School in London to talk to the students about all things NHS careers, and inspire them to consider a career with the NHS. In this short blog post, Colette shares her story.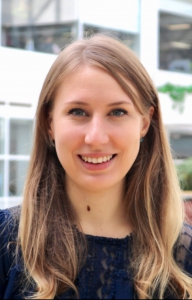 "Although I was state educated, I was lucky enough to have the support and encouragement to aim high. But state school children often don't have a 'network' around them to offer advice, ideas, work experience opportunities and so forth. This can impact their aspirations – how can you aspire to a career that you know nothing about. I was interested in science and health, but didn't want to work in a lab or in the field. I also wanted a job that was meaningful and where I could make a difference. Being an NHS manager is a great balance of both.
I want to talk with young people about the range of careers in the NHS – not just being a doctor or a nurse (although of course those are brilliant choices!) but careers 'behind the scenes' in healthcare management, strategy and commissioning. There are so many different and exciting roles out there in the NHS which I had no idea about when I was in school. I love serving the public and working to improve the NHS for everyone. Days are varied and I use a lot of different skills on a daily basis. I work alongside some brilliant people from diverse backgrounds, and there are excellent opportunities for progression. I did a degree in Biological Sciences at Oxford University and I'm also currently studying for a Masters in Public Health (MPH) whilst working, with the University of Manchester.
The advice I give to young people is not to worry if you don't know what you want to be in the future. I wouldn't have expected to be doing what I am now when I was in school. Follow your strengths and what you are genuinely interested in and things will start to fall into place.
If there is someone who inspires you or has a career you aspire to have, try and find out what their background is – where did they start and what did they do to get to where they are now. This might give you an idea of steps that you can take both now and in the future to progress your career. "
Many thanks to Colette for taking the time to share your volunteer story with us.
If you work in the NHS and would like to join us to inspire children about careers in the NHS, find out more and sign up here.