John is one of our inspiring volunteers. He has attended over ten events, and is keen to continue inspiring young people and children with Inspiring the Future. In this short blog post, John explains why he is so passionate about volunteering with us: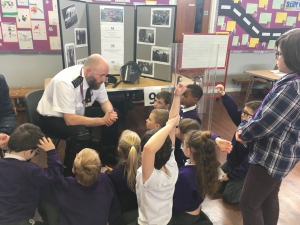 "I believe in giving something back, reaping and sowing etc., I participated in charitable events previously and still do, but I was looking for a more long term commitment. My chosen career allows me to not only broaden to minds of children but can also highlight the pitfalls of making wrong life choices. Investment in our youth is key and the earlier it is done the better the results. Taking to state school children about my career opens their minds to the world of work, and how education can link to employment. It is an opportunity to raise their aspirations and get them thinking about their futures. The Inspiring the Future platform allows matching of volunteers to opportunities which suit them based on their locations and needs.
I love my job because I can provide opportunities for individuals to change, rehabilitate and break the cycle of re-offending whilst serving a custodial sentence. I was looking for a long term career with promotion prospects and opportunities to develop as a person, working for HM Prison Service provided this.
I left school at 16 and went straight into employment. I have, however, studied through distance learning to gain qualifications to enhance my prospects.
My advice to young people is don't sell yourself short, aim high, anything is possible if you put your mind to it, be bold and take a leap of faith into the unknown."
Thank you John for raising young people and children's aspirations by volunteering, and sharing your story.
If you would like to volunteer to give just one hour, once a year to inspire children in a state school please sign up at the top of the page.