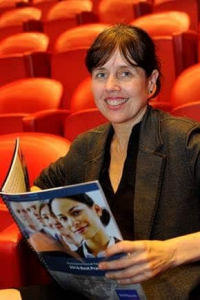 We'd like to introduce you to Mandy. She is an Editor at Workingmums.co.uk who has participated in a range of events at both secondary and primary schools as an Inspiring the Future volunteer. Mandy has further written about her experience and Inspiring the Future for Workingmums.co.uk. In this short post, she answers some of our questions about why she is passionate about her job and volunteering with us.
Why do you chose to volunteer with Inspiring the Future?
"I have written about Inspiring the Future for Workingmums.co.uk and my background is in education journalism. I can see the value of real people with real jobs going into schools, from primary upwards, and telling young people about what they do. The world of work is changing very fast and new jobs are coming on board all the time. It is hard for young people to know all that might be available to them."
Why is it important to talk to state school children about your career?
"I think there is a limited [and often negative] knowledge about what my career [journalism] involves and all the different avenues it can take you down. I think it is important that children have access to knowledge about a wide range of careers. More privileged young people have a whole range of networks and experiences they can access to broaden their opportunities."
Tell us a bit about your experience with Inspiring the Future
"I have done a variety of different things with Inspiring the Future.
At secondary schools, careers fairs and a kind of speed networking event where I moved from table to table being asked about my job.
At primary schools I have done a lot of what's my line type events and most recently I did a couple of journalism workshops with year fours.
For me the speed networking event worked best at secondary as, at traditional career fairs, a lot of students congregate around the stands of companies they know and/or who are giving out freebies.
At primary school I loved the workshops and the ability to talk directly to the classes about what I do and to have them ask me questions. I think encouraging that kind of engagement works really well."
What's great about your job?
"I get to meet a broad range of people – no one day is the same. I love the adrenaline of working to deadline for news, but I also like working on longer features or thought pieces. I love knowing what is going on and hearing all sorts of different opinions and analysis about it. I love campaigning on particular issues which I think are important. My first job out of journalism school was working for a human rights group, for instance. I now work on issue related to women in work. There is so much. It is not so much a job, but a vocation [you don't come home and turn it off at the end of the day] and I think good journalism is incredibly important."
What advice do you offer young people regarding careers?
"Find out where the subjects you like can take you and all that different careers might offer; do what you feel passionate about; get experience in any way you can [e.g. for journalism writing your own blog/working on or creating a school newspaper/working on the local paper/honing the questions you ask – it's not just about asking questions, but asking good questions]."
Thanks for taking the time to share your story with us, Mandy.
Start inviting passionate volunteers like Mandy in for an engaging and inspirational activity today. Sign up at the top of the page to start arranging an activity to broaden horizons for your class today.