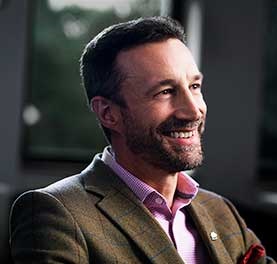 Martin is a Field Operations Director at HomeServe.
Graduating from university with a degree in Geography during a recession, Martin found it difficult to find the job he wanted.  However, that doesn't stop his past experiences from benefitting him in his current position.
What motivated you to volunteer?
I remember being pretty clueless about what I wanted to do when I was at school.  I wanted to join the Army, but my eyesight wasn't good enough, so I was very stuck about what my options were.  If I can help anyone in the same position now, then that's magic.
Why do you feel it's important to talk to state school children about your career?
I went to a state school and I'm fiercely proud of the education I got there.  It's made me who I am today.  It's important that people know and understand that you don't need a paid education to succeed in life.
My old school, just north of Bristol, recently featured on a TV programme about struggling schools.  It wasn't quite like that in my day.  I got a good, solid education and a good grounding in life from lots of positive role models.
I chose to do a degree in Geography, as it was the subject I loved most, and I graduated into a recession.  My first job was as a Dustman, which I did for a year.  That experience was pivotal in shaping my approach to management.  If I have a change of initiative to deploy, I think back to what it would take to persuade my bin crew and I to buy into it.
Tell us a bit about your experience with Primary Futures.
I've done several different activities with Inspiring the Future, ranging from speed networking session with small groups to longer presentations with large groups, going into more depth about a topic.  I've really enjoyed it, especially when audiences have loads of questions and are really engaged.
Why do you love your job?
Because I get to make a difference.  In every job I've been in, I've always felt that, for the people I leave, I can influence positive change and help my teams to grown and have confidence in their actions.
What advice would you offer to young people?
If you're lucky enough to do something you love doing, then that's fantastic.  Most people don't get to do that.  But, whatever you're doing, make the most of it.  Every task or role is a stepping stone to something else.  Always be positive, smile, and try to make a difference to every person you meet.
Thank you Martin for detailing your experiences with us and your career.
If you're ready to join our team of amazing volunteers and start inspiring the future generation with your story, register with us by clicking here.