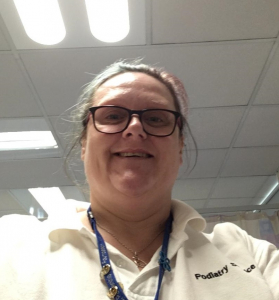 Sarah works as a Specialist Podiatrist at the Somerset Partnership Foundation Trust.
Registering to go into schools to talk to children about her career, Sarah's main motivation for signing up to Inspiring the Future is to make young people more aware about Podiatry and what a great profession it is.
Why do you feel it's important to talk to state school children about your career?
As a child, I always had education about my teeth, but nothing about my feet.  But your feet are just as important and, with early education, you can prevent problems with your feet in the future.
Also, if no one is aware of what a Podiatrist does, why would they want to go into a career in it?
Why do you love your job?
I love working with people and this is why I chose this profession.  I enjoy the interaction with my patients to improve their foot health.  Normally, once they have had treatment they're in less pain than when they first came in, which is very rewarding.
I enjoy the complexity and development that my job offers.  No day is the same.
What advice would you offer to young people?
This is such an exciting career and role to be in, as there are so many opportunities to develop and move in different directions.
Thank you Sarah for sharing your job experience with us!
If you're ready to join out team of amazing volunteers and start inspiring the future generation with your story, register with us by clicking here.