On 15 June, the children at St. Anne's RC Primary School in Manchester were delighted to be joined by a range of volunteers from the world of work, including local MP Lucy Powell. This short blog gives us an overview of what the event incurred and why Jacqueline Greene, Deputy Headteacher, chose to run a Primary Futures event at her school.
Jacqueline notes the importance of schools running these sorts of events to "build aspirations, reinforce and put into context children's learning and to introduce pupils to the world of work and then variety of opportunities."
The event saw volunteers take part in a What's my Line? activity. This consisted of a panel of five volunteers who were asked questions by the children; the goal being for the children to guess each panellist's job. Lucy Powell observed this activity, chatting to the pupils after. Following a short break, the year 4 to year 6 pupils were joined by 14 volunteers for a career speed networking activity which saw five volunteers in each class speaking to smaller groups of children on a rotating basis. This gave pupils the opportunity to ask more questions and gain a deeper understanding of each volunteer's role, including how what they learnt in school helped them get their job.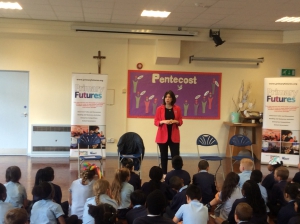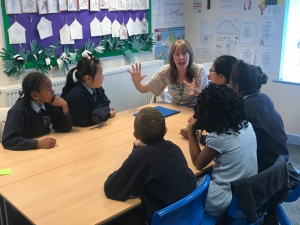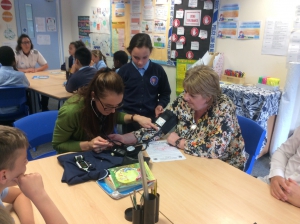 Commenting on the day overall, Jacqueline said:
"Pupils loved the event. They were really engaged, asking interesting and thought-provoking questions. They particularly liked discussing the practical aspects of people's jobs and handling the objects they had brought with them. Next year I want to develop it further. I might consider themed days."
Comments from pupils included "can we do this all day?" and "I've changed my mind – I want to be a pilot when I grow up."
If you would like to organise a similar event for your school sign up at the top of the page to start inviting volunteers, or contact us at enquiries@inspiringthefuture.org